Module 1: Why you should consider taking the exam - the demand for healthy buildings
Module 1: Why you should consider taking the WELL AP exam - the demand for healthy buildings.
Buildings significantly impact people and communities.
We spend a lot of time inside buildings - on average, Americans spend 90% of their time indoors (source). We really are an "indoor species," and the spaces where we live, work, and learn significantly impact our health and wellness. Yet, historically, we have put little thought into the quality of the spaces where we spend so much time - and that needs to change.
The good news is that the latest research demonstrates we can leverage healthy building strategies to foster positive health outcomes for building occupants.
As you work through this mini-course, there are at least two key themes to keep in mind: (1) the importance of centering people in conversations around buildings, and (2) the impacts of healthy buildings at scale.
Put another way, when we create more healthy buildings, we increase access to healthier spaces, and more people reap the benefits.
Healthy buildings in context.
The demand for healthy buildings continues to increase.
Since its launch in 2014, The WELL Building Standard™ (WELL) has experienced exponential growth. According the International WELL Building Institute™ (IWBI), the entity that delivers WELL, as of November, 2021, there are approximately 30,500 WELL projects, constituting 2.93 Billion square feet, in 98 countries (source). That's nearly 3 Billion square feet in seven years.
To give you a sense of scale, the Empire State Building, one of the largest office buildings in the world, is 2.7 Million square feet (source).
This graph demonstrates WELL's growth: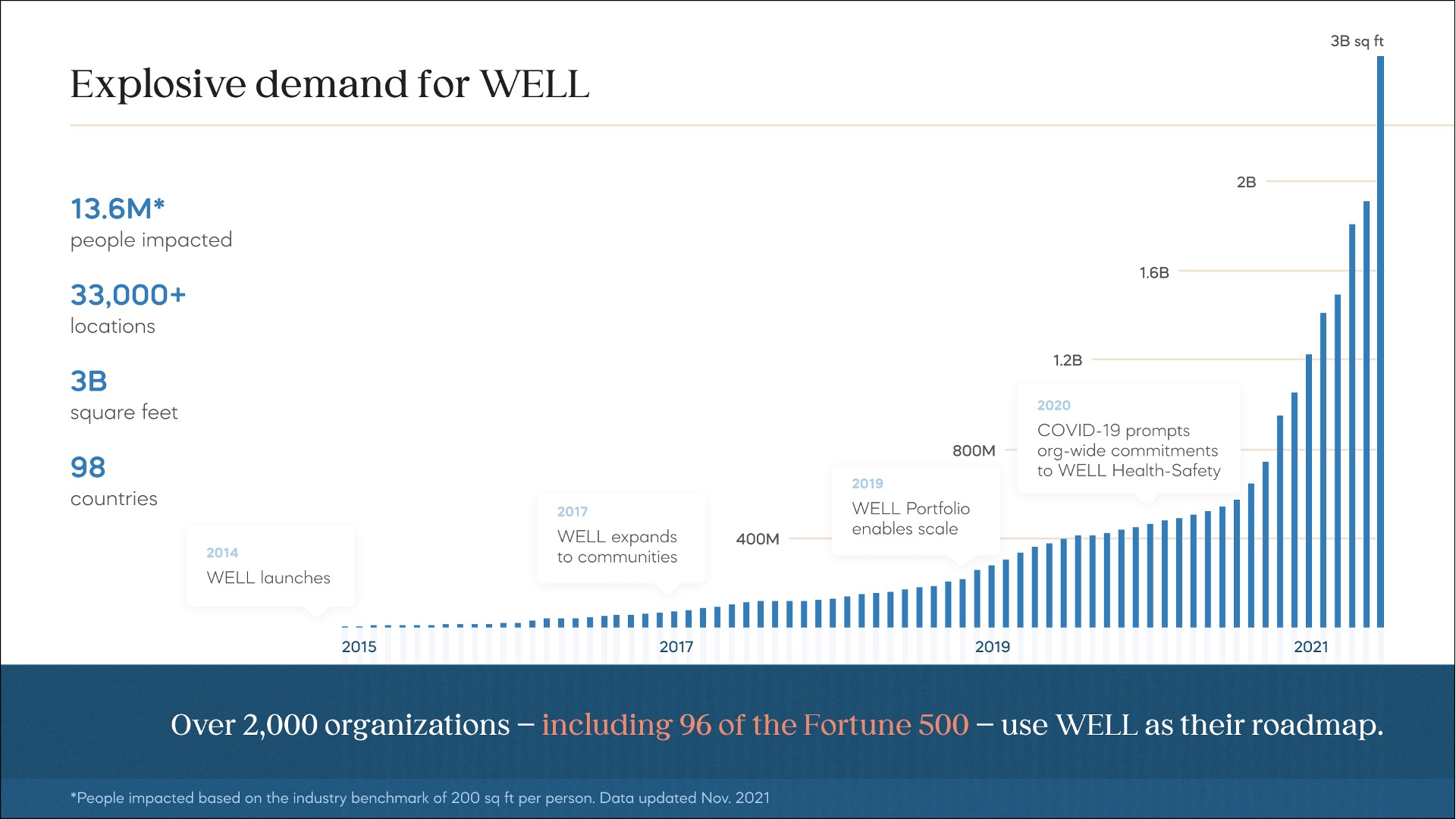 (Image courtesy IWBI). This graph also demonstrates the number of people who have benefitted from healthy building strategies. It is important to emphasize that the positive impacts of healthy spaces increase when we move beyond the individual building scale and towards the portfolio and even community scale!
This growth in demand, along with other factors like improvements in technology, an increasingly sophisticated consumer and practitioner base, and shifts in the overall public awareness around healthy buildings, it was time to update WELL. And after completion of a Beta phase in June, 2020, the second version of WELL — WELL v2 — graduated out of Pilot and into the marketplace (source).
This naturally created a need for a new WELL Accredited Professional™ (WELL AP) exam to align with WELL v2.
A growing community of WELL APs.
If you're thinking about getting the WELL AP credential, you should, for at least two reasons.
First you would be in good company. To date, IWBI reports nearly 11,000 WELL APs (source).
Second, healthy buildings are having a moment that is not expected to end any time soon, as outlined in the chart above.
This chart really speaks to the explosive growth of the healthy buildings industry, as well as the pandemic's role. And the demand for healthy buildings will continue to grow as we learn how to manage the lasting impacts of the pandemic.
Healthy buildings are a key aspect of ESG.
Additionally, Environmental, Social and Governance (ESG) factors will continue to increase the demand for both healthy buildings and professionals who can advise project teams and guide them through the certification process.
ESG metrics are quickly becoming standard business practice, and an increasing volume of industry research demonstrates that healthy buildings are a key factor in investment decisions.
For example, leading commercial real estate services and investment firm, CBRE, noted in its latest report — ESG & Real Estate: Top 10 Things Investors Need to Know — how "health & wellness is influencing building design and operation (source)." And there are many other examples of the demand for more sustainable, healthier buildings, and their role in larger ESG conversations (see resources below).
If you are looking for a new job, or considering a career transition, there are many opportunities in ESG, to the point where sustainability leaders have claimed there is a "war for ESG talent (source)."
There are also significant opportunities: in June, 2021, accounting firm Price Waterhouse announced it would invest $12 Billion over the next five years to create 100,000 jobs in the ESG space (source).
The intersection of ESG and healthy buildings presents significant opportunity to drive real change in the market, and certification frameworks like WELL can help support ESG analysis and reporting (more info here). Now is the time to act on the significant investments that key stakeholders are making in ESG.
In fact, as climate risk becomes an increasing focus for investors, the industry's attention to the role the built environment plays has steadily increased, raising questions of resilience, equity, energy, carbon and many more — all factors that can be tied back to healthier building strategies (source).
One way to drive positive change in the built environment, and capture the demand for practitioners who can support design and development of healthier buildings, is to sit to the WELL AP exam and become a WELL AP!
In the next Module, I will explain what is covered on the WELL AP exam, and where you can locate the key resources.
---


Additional ESG Resources:
See, IWBI, Driving Better Investment Decisions, https://resources.wellcertified.com/tools/driving-better-investment-decisions/; IWBI Press Release, IWBI and GRESB Deliver Report Demonstrating Alignment Between WELL and GRESB 2020 (July 30, 2020), https://resources.wellcertified.com/press-releases/iwbi-and-gresb-deliver-report-demonstrating-alignment-between-well-and-gresb; The New York Times, "As Risks of Climate Change Risk, Investors Seek Greener Buildings," https://www.nytimes.com/2021/10/26/business/climate-change-sustainable-real-estate.html; even insurance carriers are recognizing the tangible, risk-reduction benefits of robust ESG frameworks, https://www.businesswire.com/news/home/20211025005276/en/Marsh-to-Recognize-Clients-with-Robust-ESG-Frameworks


Complete and Continue